UNC Charlotte paves the (run)way for innovations in the aviation sector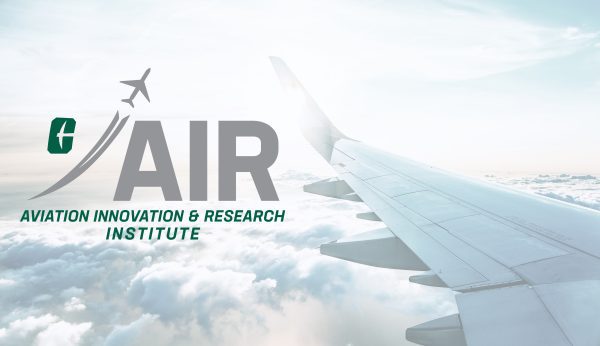 UNC Charlotte's William States Lee College of Engineering, in conjunction with Charlotte Douglas International Airport, has established a one-of-a-kind partnership, the Charlotte Aviation Innovation and Research Institute, or Charlotte AIR. This new research institute is designed to explore solutions for the aviation sector and airport infrastructure industry through innovation and workforce development.
Rob Keynton, dean of the W.S. Lee College of Engineering, announced the creation of the Charlotte AIR Institute on Tuesday, Oct. 24 at the 2023 Airport Engineering Seminar. "Charlotte AIR provides a unique nexus of aviation-focused research, technology transfer, community engagement and education," said Keynton. "It will help establish this city as the hub for aviation infrastructure and technology expertise through transformative research, while creating the next-generation workforce to meet the industry's needs."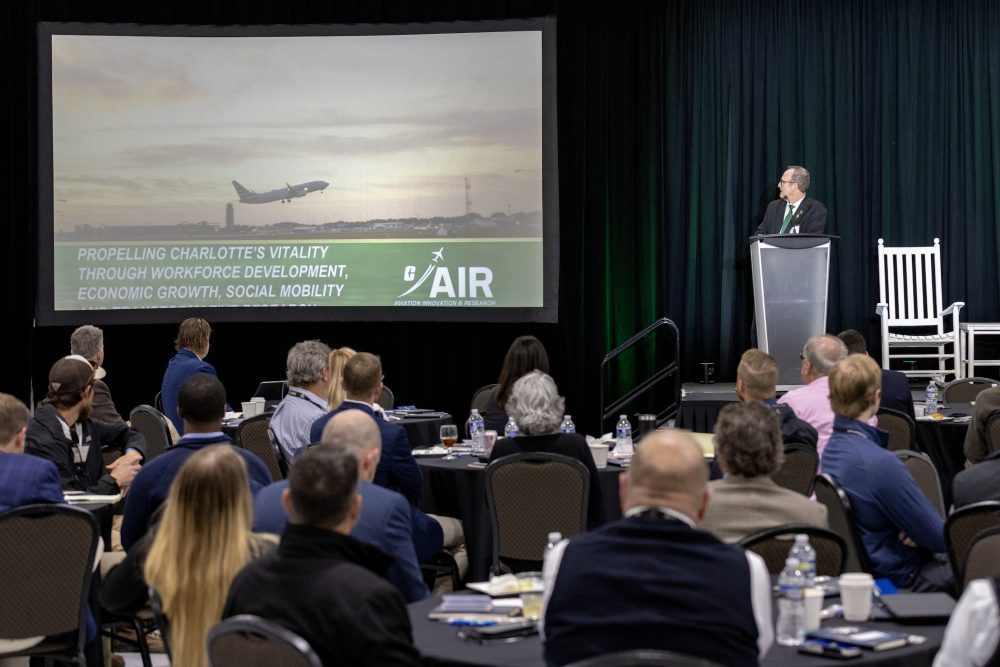 As a national leader, the Charlotte Douglas International Airport serves a key role in the Institute. "Our partnership is a significant opportunity that will help shape the future of airports and aviation professionals," said Jack Christine, Chief Infrastructure Officer of the airport. "We are excited to help launch this Institute and leverage our facility as a 'living laboratory' to benefit the students at UNC Charlotte and the industry as a whole."
Tara Cavalline, professor of civil engineering technology and construction management, and Srinivas Pulugurtha, professor of civil engineering, are co-directors of Charlotte AIR and lead an interdisciplinary research team from across campus. These experts are already experienced in related research, with prior accomplishments including:
The nation's first sinusoidal joint for concrete taxiways, an innovative pavement joint that could provide cost savings and sustainability benefits
Several ongoing research projects supporting the needs of the Federal Aviation Administration, airport owners, and industry stakeholders
More than 300 Charlotte alumni who have completed aviation-related coursework
Six national seminars hosted with plans for future events.
"Our city's airport is serving as a testbed to amplify and build on our successes for infrastructure and technology innovation," Cavalline explained.
Charlotte Douglas International Airport is the world's seventh-busiest with more than 45 million travelers annually, making it a major hub for passengers and air freight and one of North Carolina's key economic engines. Meanwhile, the aviation industry is demanding higher operational efficiency, with advanced safety and modernization efforts and greater numbers of skilled professionals to lead these initiatives.
The Charlotte AIR Institute is designed to address these challenges by exploring resilient and sustainable infrastructure, intelligent transportation systems, asset management, unmanned aerial vehicles, data-driven decision-making, multimodal transportation, ecosystem stewardship and more.
"To discover solutions to industry challenges, Charlotte AIR's intellectual capital is being concentrated through the prism of one of the nation's largest hubs," said Pulugurtha. "By using the airport as a living-learning facility, we also offer our engineering students experiential training and a curriculum that was co-developed with our partners."
In addition to partnering with Charlotte Douglas International Airport, Charlotte AIR is working with Talbert, Bright and Ellington, a leading consulting firm for the aviation industry, and Sullenberger Aviation Museum. The museum is the Institute's outreach partner for engaging K-12 students, serving as early steps toward potential careers in the aviation industry.
Recently, the Charlotte AIR Institute was recognized by the UNC System as a formal research center and awarded an "Ignite" grant from the UNC Charlotte Division of Research. The Ignite grant program was designed to strengthen multidisciplinary programs of research, public service and instruction.
UNC Charlotte, North Carolina's urban research university, is uniquely positioned to research, innovate and advance industries across the state and nation. From the energy production and infrastructure research via EPIC to the recent formalization of battery research in BATT CAVE and now the launch of the Charlotte AIR Institute, Charlotte is advancing its status toward being a national top-tier research institution.