Facilities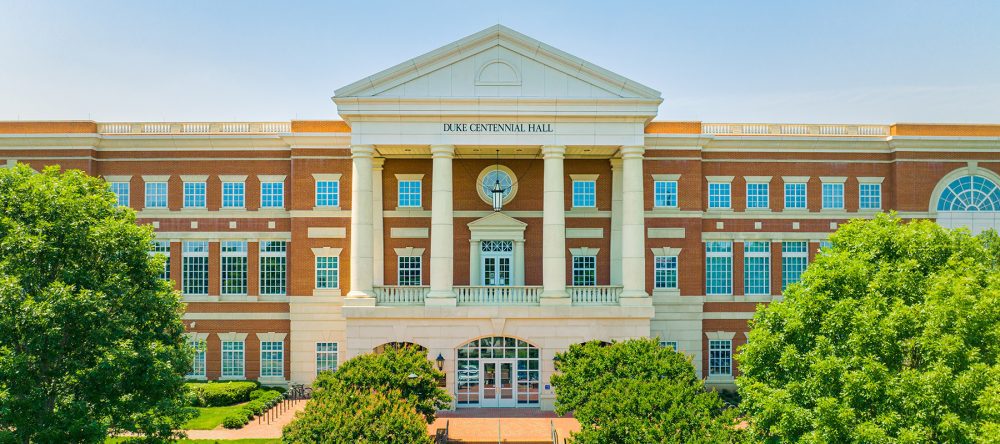 Through the commitment and support of the State of North Carolina, the William States Lee College of Engineering has some of the finest engineering facilities in the country. Our classrooms, lecture halls, study areas, computer labs, and many research laboratories provide students with the best hands-on learning experience possible. Our academic departments are housed in five buildings dedicated to the W.S. Lee College of Engineering. We also share facilities in three other campus buildings.
Our main buildings and the departments that call them home are:
Cameron Center

The Industrial and Systems Engineering Department has classroom and administrative offices on the second floor of the Cameron Center, and also has lecture halls and labs on the first floor.
Duke Centennial Hall

The home of the Mechanical Engineering and Engineering Science Department. Duke Hall also houses the Dean's Office, the Center for Precision Metrology, and the Center for Biomedical Engineering and Science.
Albert & Freeman EPIC Building

The largest academic building on campus, the 200,000-square-foot Energy Production and Infrastructure Center (EPIC) is the home to two engineering departments: Civil and Environmental Engineering, and Electrical and Computer Engineering. EPIC also has its offices and labs in the building.
Kulwicki Motorsports Laboratory

The Alan D. Kulwicki Motorsports Laboratory is named after the 1992 Winston Cup Champion and engineer, Alan Kulwicki. The Alan D. Kulwicki Motorsports Laboratory offers students 6800 square feet of training space, one of the largest in the Southeast. 
Smith Building

One of the first buildings constructed on the UNC Charlotte campus, the Smith Building has undergone several recent renovations to its classrooms and laboratories. It is the home to the Engineering Technology and Construction Management Department. It also houses the Office of Student Development and Success (OSDS). First-Year Advising, Professional Development, and the Industrial Solutions Laboratory are located in the Office of Student Development and Success.
Map