New Photovoltaic Technology Research Laboratory Opens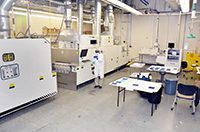 With the purpose of teaching the science and engineering of solar energy and partnering with industry to research methods for producing more-efficient and lower-cost solar cells, the Lee College of Engineering has opened the new Photovoltaic Technology Research Laboratory.
Located in the Energy Production and Infrastructure Building, the new photovoltaic lab is under the direction of Dr. Aba Ebong, professor of Electrical and Computer Engineering.
Much of the equipment for the lab has been donated by TP Solar, a U.S. company based in California. "They have been very generous in their gifts of equipment and technical support," Dr. Ebong said. "This is all professional-grade, state-of-the-art equipment."
The production laboratory equipment includes a RTP2 rapid thermal belt furnace, an in-line diffusion furnace and a screen printing system. The production lab can fabricate solar cells using the exact same methods as industry. A computational modeling and solar cell testing laboratory is also part of the new photovoltaic facility.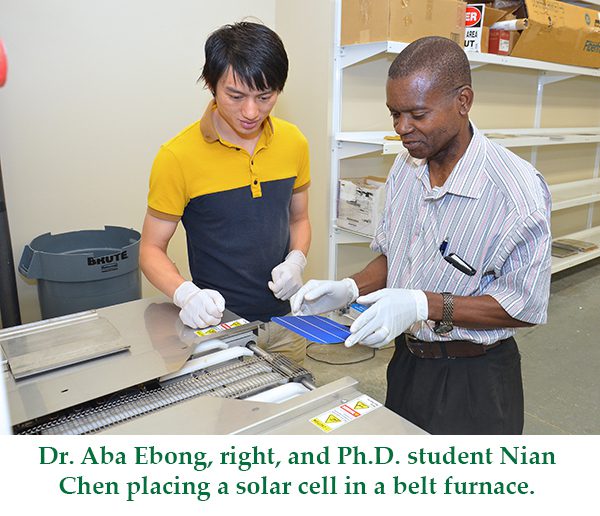 On the educational side, the facility provides students the chance to see how solar cells are produced from start to finish. The lab is already being used to teach the class ECGR 4290: Science and Engineering of Photovoltaic.
"My hope is that by exposing undergraduates to photovoltaic research in this lab, we will inspire them to pursue careers in solar energy, or motivate them to stay at UNC Charlotte for graduate degrees that involve solar research," Dr. Ebong said.
Working with industrial partners, Dr. Ebong and his students are already researching a number of ways to improve photovoltaic efficiency without any additional cost to production. Improvement methods include increasing the number of busbars to five from the standard three, using grid line segmentation to reduce metal shading to less than five percent and using bifacial solar structures .
In conventional solar cells, electrical current flows from the grid lines (smaller strips) that are printed on the silicon wafers, to busbars (larger strips) that make up a solar cell. In a standard solar panel, an array of 60 cells is connected in series and has a power output of about 250 Wp (watt peak capacity).
"An idea we are working on now is reducing the width of the grid lines and the width of the busbars," Dr. Ebong said. "This opens up more surface area for capturing solar power. Another thing we are looking at is segmenting the grid lines to open up more surface. This can remove two to five gridlines on average, which can lead to savings greater than $200,000 per year for a 500 MW factory."
Early results have been good, with slight improvements being seen with segmentation and three busbars, and even more improvements being seen with segmentation and five busbars.
"Segmentation and five busbars in showing efficiencies of 19.5 percent, as opposed to the current norm of 19.2 percent," Dr. Ebong said. "As small efficiencies are multiplied by the number of cells in an array and the number of arrays in a solar field, they add up to a lot of power. We will continue to work on and refine cells to get even more improvement. If we can get to 20 percent efficiency at the same cost as current production, it will be a game changer."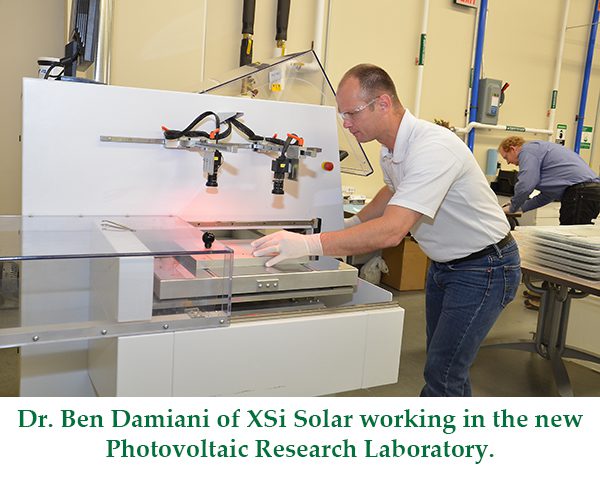 Several industrial partners are already working with the Photovoltaic Technology Research Laboratory to research new efficiencies and ways to reduce costs by using different materials.
Dr. Ben Damiani is with XSi Solar, which is based in Chattanooga, Tennessee. He is doing research in the lab to make prototype solar cells.
"This lab provides the combination of industrial throughput with academic expertise," Dr. Damiani said. "The way the lab is set up, it has the best of both worlds. It has state-of-the-art equipment, and Aba is world renowned for his expertise. The solar cells we're making are non-standard, so we need the help of a Ph.D. student and the expertise of Aba to make sure we're getting what we want to get."
Mark Votava is with 3M out of St. Paul, Minnesota. His research involves the evaluation of different substrate materials for solar cells. "The research here is all in the spirit of collaboration for developing solar," Votava said. "Aba is well recognized in the industry and the science of photovoltaics. And the interaction with the graduate students is valuable. It's a great match, pairing industry and the university."