National Spotlight on William States Lee College of Engineering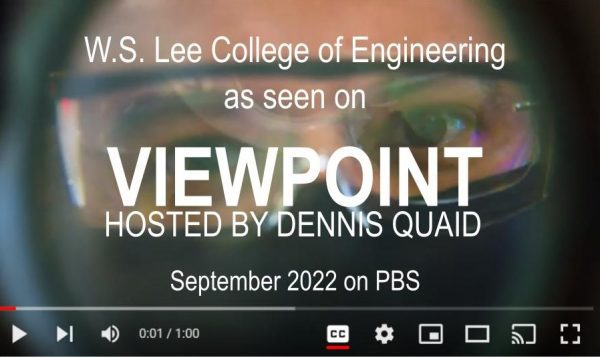 What's coming soon?
William States Lee College of Engineering will be featured nationally on a public television documentary, Viewpoint with Dennis Quaid, a series whose mission is "changing our lives for the better." The episode spotlighting the College will explore why UNC Charlotte is a top choice for an engineering education.

How did this happen?
Last year, Dean Robert Keynton opened an email that he was not expecting. It was from the award-winning documentary series, Viewpoint with Dennis Quaid, that explained the College had been selected for an upcoming episode in the series, which informs viewers on the very latest topics and trends impacting the world.
The good news continued: the documentary would be cross-promoted on top-rated national broadcast channels including CNN, Discovery, Fox and others.

Representatives from our student, faculty and industry partners were invited to the interviews, film crews set up mobile studios and the production professionals went to work developing the segment.
When can we see it?
The full show, including an introduction by Dennis Quaid, is scheduled to air on public television stations nationally beginning September 2022.

In the meantime, you can see our segment now.
Our favorite quote heard during filming:
"It gave me the foundation that I built an entire career on. The fundamentals that I learned here have proved to be beneficial for me my entire 40 years career with Duke Energy." – Dhiaa Jamil, COO Duke Energy
Thank you to all faculty, students, partners and Viewpoint teammates in bringing this episode to reality!