UNC Charlotte, City of Charlotte, Duke Energy Win Prestigious Diversity, Equity & Inclusion in Cleantech Award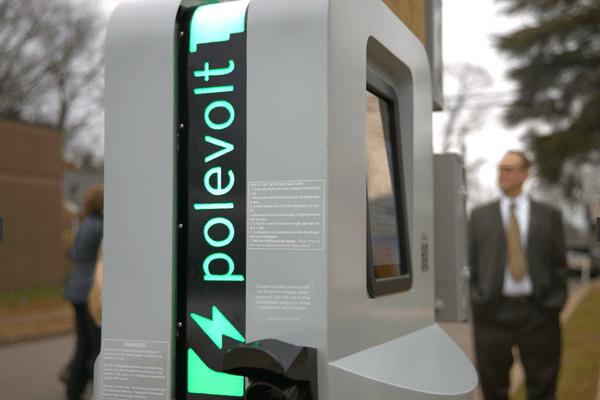 UNC Charlotte, the city of Charlotte and Duke Energy have been named the recipient of the Diversity, Equity and Inclusion in Cleantech award by the Research Triangle Cleantech Cluster. The organizations were selected for the award based on their collaborative initiative PoleVolt™, which uses existing streetlights to provide curbside electric vehicle charging. This solution is the first of its kind in the nation.
Presented at RTCC's fourth annual Cleantech Innovation Awards, the honor recognizes an organization or initiative that has demonstrated a strong commitment to building a more diverse, equitable and inclusive cleantech economy. RTCC is a not-for-profit organization that supports the creation of sustainable communities through cleantech innovation and adoption.
"North Carolina is growing its presence in the clean energy and technology industry and UNC Charlotte's Energy Production and Infrastructure Center is a key part of that growth, along with our partners at the city of Charlotte, Duke Energy and Centralina Regional Council," said Rob Keynton, dean of the William States Lee College of Engineering. "Our PoleVolt™ innovation is just one example of how we are partnering toward a better socioeconomic balance with greater access to clean energy in more communities. It is an honor to be counted among other strong innovators who are also forging solutions for societal challenges across the nation."
A public-private effort between EPIC at UNC Charlotte, the city of Charlotte, Centralina Regional Council and Duke Energy, PoleVolt™ is funded through the U.S. Department of Energy's Vehicle Technology Office.