NSF Funds Graduate Student Research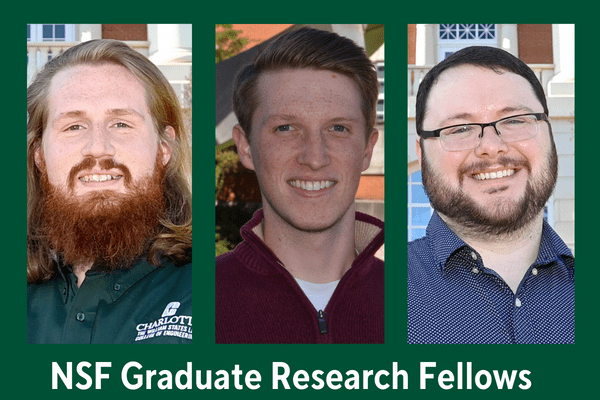 Three engineering graduate students are researching impactful projects by leveraging the highly competitive and prestigious Graduate Research Fellowship award from the National Science Foundation. Chris Neff, Electrical Engineering, Patrick Bounds and Marc Duemmler, both Mechanical Engineering, are graduate students in the William States Lee College of Engineering and Fellows in the NSF program.
These three students are among only 2,000 students selected nationwide to receive the NSF Graduate Research Fellowship from more than 16,000 applicants.
"This year, three of the four NSF Graduate Research Fellows at UNC Charlotte are students in Engineering. The faculty have been working hard to encourage and train students so they are in a position to obtain this prestigious fellowship," said Julie Goodliffe, Director of Funding and Fellowships with the UNC Charlotte Graduate School. "It shows an increasing dedication to STEM research and education, which will elevate UNC Charlotte's excellence and reputation."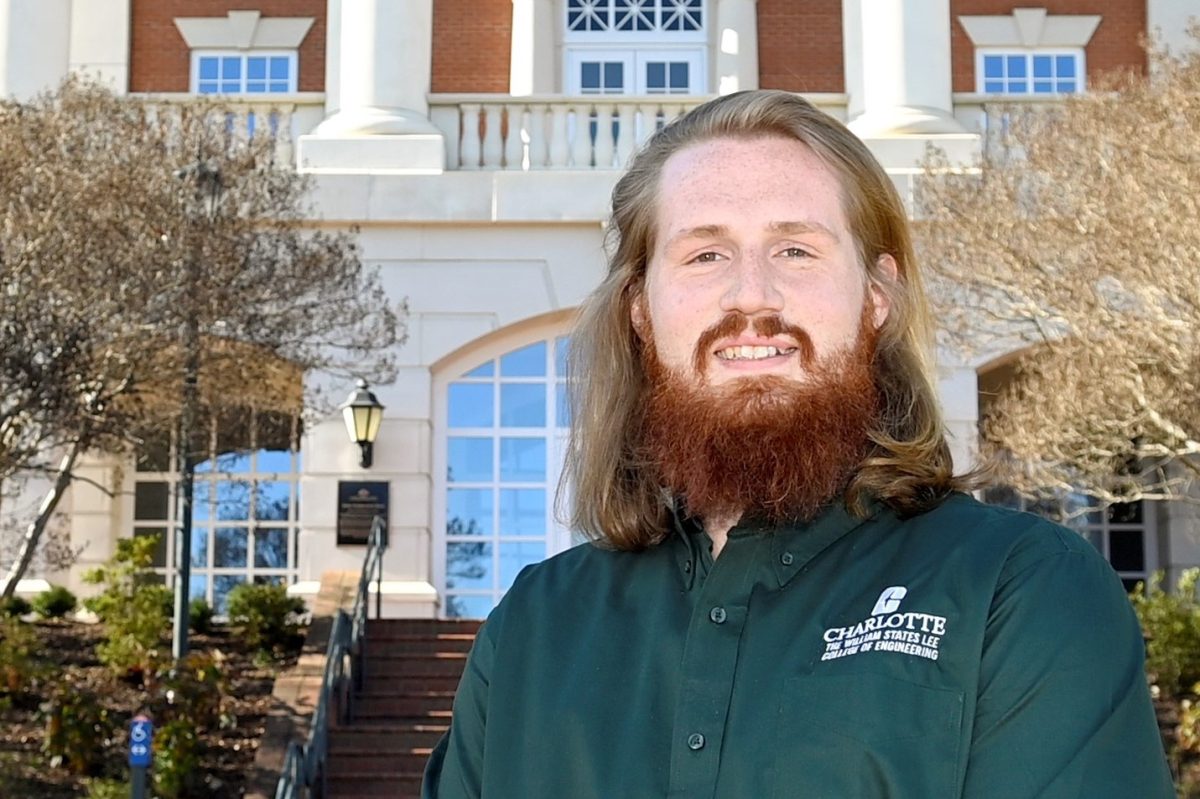 Patrick Bounds, Ph.D. candidate in Mechanical Engineering, was awarded the Fellowship in Spring 2020, with Dr. Mesbah Uddin as his faculty advisor. Bounds investigates ways to integrate machine learning explainability into computational fluid dynamics modeling. His advancements will help create tools that allow developers to make more accurate models of fluid flow. This will lead to more accurate results when these models are used in actual applications, such as airplanes, automobiles and power turbines.
"Dr. Uddin has pushed me to be a better researcher and opened doors to engineering experiences that have made me a better worker," said Bounds, who plans to graduate in 2024.
Marc Duemmler, Ph.D. candidate in Mechanical Engineering was awarded the Fellowship in Fall 2020. Having completed his master's degree at UNC Charlotte, he selected William States Lee College of Engineering for his Ph.D. experience as well. Duemmler works on biomedical engineering research in Dr. Naiquan (Nigel) Zheng's Biomechanics and Motion Analysis Lab as a Graduate Assistant.
Recent research focused on baseball pitching mechanics, as Duemmler investigated certain biomechanical properties of the shoulder to determine if there were any correlations with past injury. He then determined if that made collegiate pitchers susceptible to future injuries. The research goal is to determine if injury-risk players can be identified before they get hurt, which will lead to a lower the rate of injuries in baseball pitchers. Duemmler is expanding on this research topic within his Ph.D. program.
Duemmler also works as a Research Associate at the Atrium Health Musculoskeletal Institute, in the Orthopaedic Engineering department.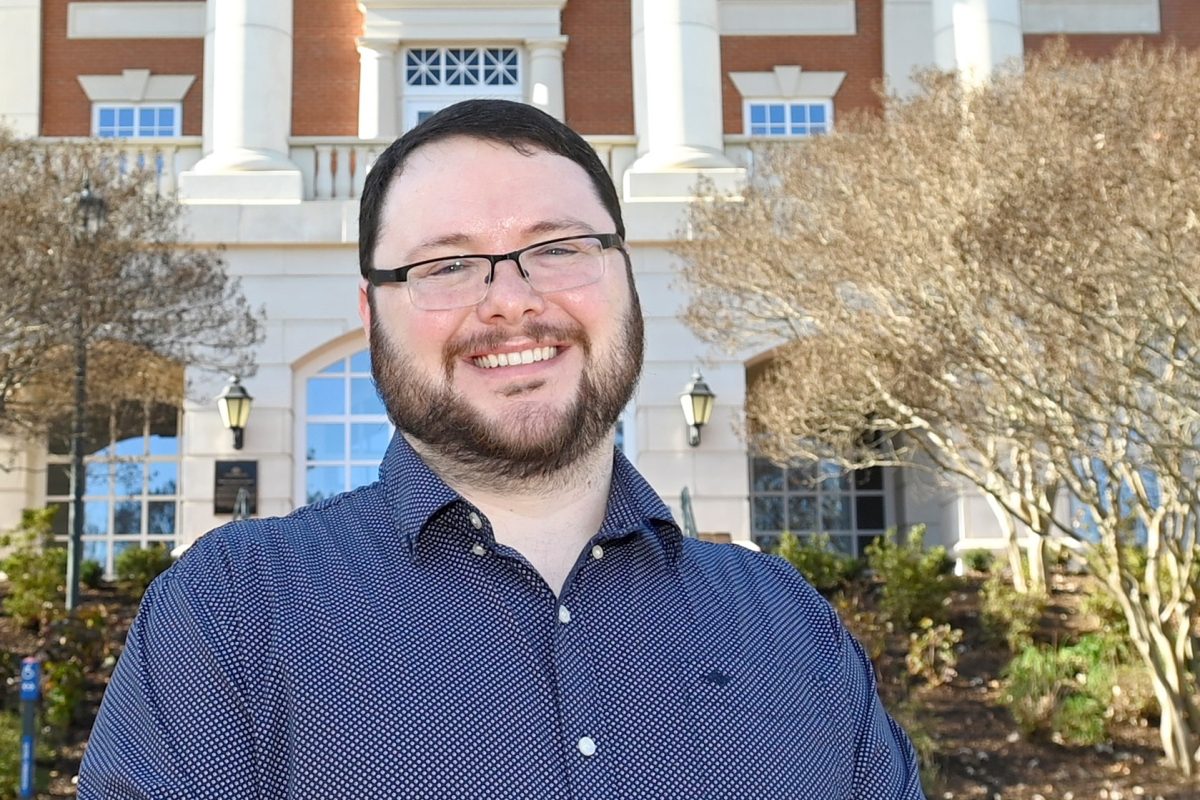 Chris Neff, Ph.D. candidate in Electrical Engineering, was awarded the NSF Fellowship in 2021. A combat veteran of the United States Army, he received a Bachelor's in Computer Engineering from UNC Charlotte in 2019. As research assistant under his faculty advisor, Dr. Hamed Tabkhi, Neff focuses his research on the development of practical artificial intelligence for public safety.
"I am developing a system that can detect anomalous events (e.g. car crashes, violence, theft) in real-time and alert the appropriate people," shared Neff. "Our system has a strong focus on the preservation of personal privacy and the removal of bias, so that we can protect communities without compromising their right to privacy and while ensuring fairness with respect to race, gender, and socio-economic status."
Fellows benefit from a three-year annual stipend of $34,000 along with a $12,000 cost of education allowance, opportunities for international research and professional development and the freedom to conduct their own research at any accredited U.S. institution of graduate education they choose.
The NSF Graduate Research Fellowship Program (GRFP) recognizes and supports outstanding graduate students in NSF-supported science, technology, engineering and mathematics disciplines who are pursuing research-based master's and doctoral degrees at accredited U.S. institutions
For more information, please visit the Graduate School's Funding for Graduate Education website.