Advice From Commencement Speaker Abby McConnell To First-Year Niners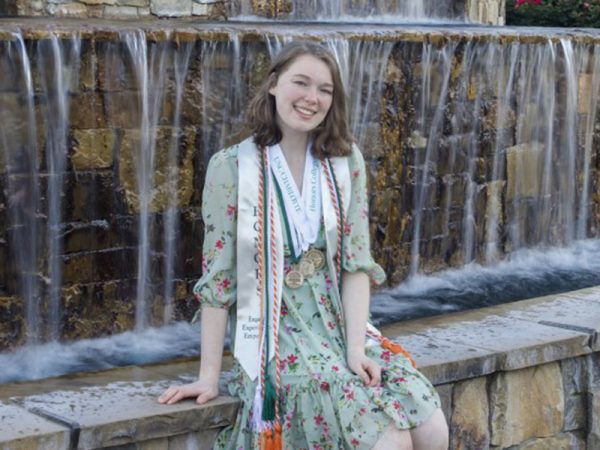 Abby McConnell will graduate Saturday with a Bachelor of Science in Mechanical Engineering with a minor in electrical engineering and a concentration in energy. As a Niner Engineering student, she participated in the University Honors Program and a variety of clubs, intramural sports and community service events. She plans to focus her career on making alternative energy sources more accessible and advocating for clean energy.
Through a series of questions from first-year computer science major Heaven Addai, McConnell reflects on her Niner experience and offers advice to students beginning their collegiate studies.
As you leave Charlotte and embark on a new journey, what would your final parting words be to first-year students just beginning their journeys?
I would probably say my best advice to first-year students just beginning their time in college is to not stress over the little things. No one is perfect and no one is without fault. Accept that sooner rather than later and it will save you a lot of hardship.
How did you stay so consistent during your four years as an engineering major?
Honestly, I'm not all that consistent; I'm passionate. I love what I do and that makes it easy. If you don't love what you do, find something you do love or learn to love what you're already doing. Learn to love the struggle and find enjoyment when things get hard.
What apps and studying hacks would you recommend?
Don't judge me on this one, I do two things when stressed: forget things and make lists of things I need to remember. I write my schedule down in at least three places at all times. Google calendar has been an absolute lifesaver. I put everything in there and set multiple reminders for myself. I also use a whiteboard to write assignments on, a physical calendar that I write my weekly schedule out on, and have my class schedule printed out and laminated so I can write on that as well. I've found that being hyper-organized and making it a habit is the only way to remember everything when things get stressful or crazy.
If you could change one thing about your college experience, what would it be?
I can't say I would really change anything about my college experience. I am so thankful to everyone who has helped me get to where I am and become who I am today. The only thing I would change is to stress less about the little things. I am a perfectionist and the first time I got a C on a test I cried on my floor for an embarrassing amount of time. Don't be like me. Don't hold yourself to impossible standards. You're not going to get A's on every single assignment, quiz, and test in college. Always do your best and push yourself to be better, but don't get upset at yourself for not being perfect.
During your four years here, what is the single greatest lesson you've learned?
Networking is key! I can't stress enough how much networking can make or break your career. So many of the opportunities I have had came from reaching out to people and starting conversations. I am such an introvert and networking is the worst kind of torture for me, but it is so worth it. I have found time and again that the best opportunities and times in my life come right after the times when I have to push myself out of my comfort zone.
What has Charlotte equipped you with that, as a freshman, I can grab ahold of?

Charlotte does an amazing job providing tons of networking opportunities, seminars, and hands-on experience that will benefit you when you graduate. Go to these opportunities. Put yourself out there. Set goals to attend events each week that will help you grow academically or professionally. I would also say: get to know your professors. Charlotte has amazingly well-connected professors. Utilize the resources that are around you; this is the one time in your life that so many opportunities are so easily accessible.
What is the greatest resource on campus that you have used?
Again, I would say that professors and faculty are the best resource on campus. Every professor I have ever reached out to has been so welcoming and willing to help me with whatever I need. I have done research with Charlotte faculty; I have had faculty on my honors committee; I have had recommendations written by faculty here and I have never once felt like I was a burden. The professors here are so passionate about their work and so willing to help their students.
What song will always remind you of this time?
That's a hard one! I honestly can't think of a single song that reminds me of my entire time in college. My music taste has changed so much over the years. I will say "Country Roads" by John Denver used to play all the time in SoVi and I will never forget half of the room screaming "West Virginia" one time. But one song to encompass my time in college is an impossible task.
Congratulations to Abby, and all other graduating Niner Engineers and the full class of 2023!