49ers Racing Speeds into Top 10 in International FSAE Competition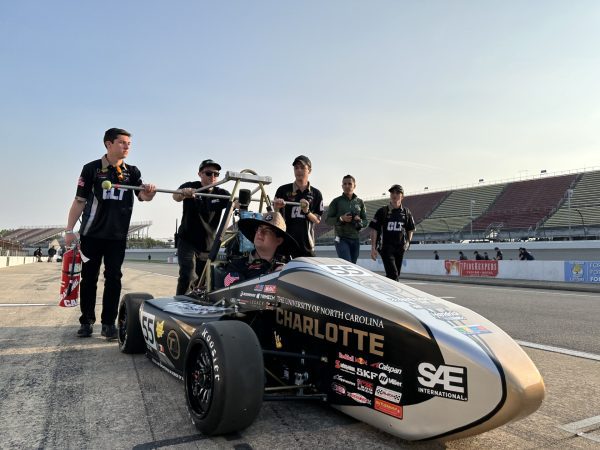 UNC Charlotte's Formula SAE team, 49ers Racing, returned this weekend from the SAE International Collegiate competition at Michigan International Speedway, where they placed in the top 10. Competing against 119 other teams from across the globe, 49ers Racing earned impressive rankings in multiple events, including second in fuel economy, third in endurance and ninth overall.
Tyler Stover, assistant professor of mechanical engineering and engineering science for the William States Lee College of Engineering, serves as the team's faculty mentor and accompanied the students to Michigan. "During the review portion, the judges stopped by our paddock and gave the team some really informative and detailed feedback," said Stover. "The main judge stated we scored extremely high and improved over last year."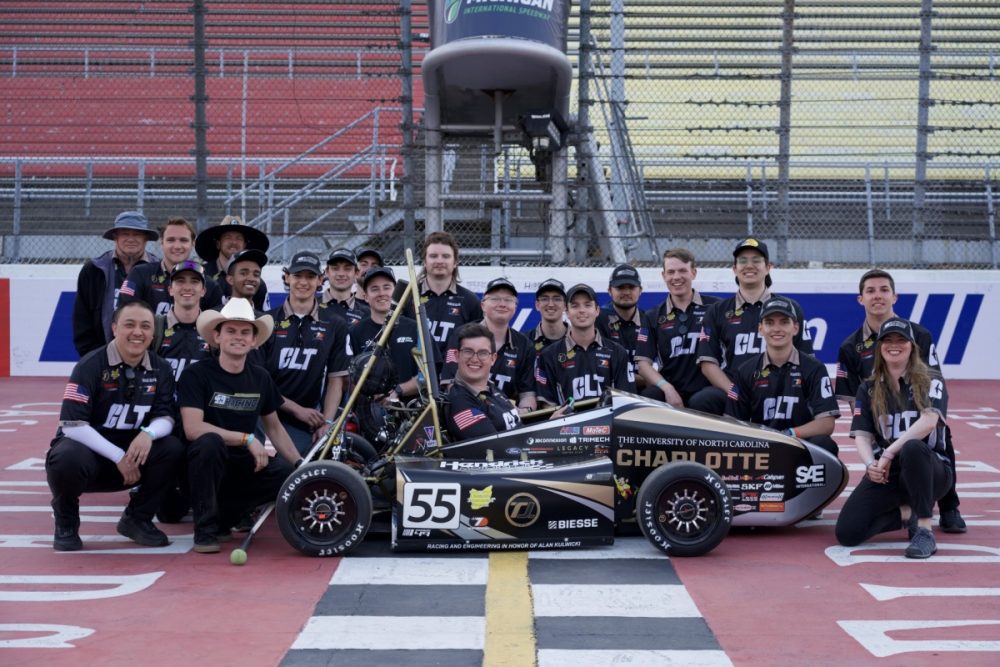 The internal combustion engine car, designed and built by mechanical engineering students who were led by team captain Wes Goodwin, performed extremely well, using some innovative approaches. As an example, the team opted to forego a full wing aero package, which is favored by most teams and often perceived as the standard. Alternatively, they used a nontraditional design. "They tested the car at Charlotte Motor Speedway and ran it with and without the aero package," said said Kulwicki Lab's Research Operations Manager, Jim Fox. "The data they gathered proved they concept was a good one. They ultimately finished 3rd in the always tough Endurance competition, and in the process passed 4 full aero cars, capturing attention and pulling the spotlight to the 49ers."
The relatively light, nimble EV car was built by the students with a small KTM engine. It also had an undertray and diffuser system designed and built by the aerodynamics team led by Mitchell Harney, the lead aerodynamic design engineer.
"The work the students put into the cars is amazing," said Fox. "To watch them collaborate on this car was like poetry in motion. They designed, changed, iterated and then did it some more. The team proved to us that their concepts would work and we gave them the blessing to achieve the goals they set for themselves. They worked through some tough times with supply chain issues and some technical glitches and persevered. I couldn't be more proud."
According to the SAE organization, the university competitions challenge student teams to design, fabricate, develop and compete with formula style vehicles. Geared to support an engineering education, the competition requires performance-based, timed challenges both on- and off-track. The competition allows teams to actively demonstrate their applied skills in comparison to teams from around the world.
"The team represented the University well," said Stover. "We will need to construct a trophy case in the Kulwicki Motorsports Lab soon."
Formula SAE offers several categories of competition, including the internal combustion engine category. A different team of UNC Charlotte engineering students will compete in the electric vehicle category in Michigan, June 14-17.