Kulwicki Scholarship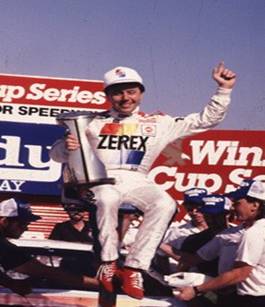 Alan Kulwicki was a self-made man who broke all conventional wisdom to capture the 1992 NASCAR Winston Cup championship by the narrowest margin in the sport's history. Kulwicki, an unassuming yet fiercely dedicated man, died in a plane crash in April of 1993, just five races into the 1993 NASCAR Winston Cup season.
Kulwicki built his own team from the ground up and molded it into the championship caliber it enjoyed at the time of his death. During his career, he scored five career Winston Cup wins, 24 pole positions, and more than $5 million in winnings.
Kulwicki was just as dedicated to his education and earned a Mechanical Engineering degree from the University of Wisconsin-Milwaukee. He was the first college graduate to win the NASCAR Winston Cup championship, an honor he deeply cherished.
The Alan Kulwicki Memorial Scholarship
The Alan Kulwicki Memorial Scholarship recognizes Alan's dedication to education and his ability to inspire others. The Kulwicki Scholarship was established at The University of North Carolina at Charlotte through the generosity of the R. J. Reynolds Tobacco Company. The scholarship was funded by the sale of a special Winston Cup Champion's poster, which commemorates Kulwicki's 1992 championship season, and contributions from friends.
The $1500 scholarship is awarded each year to an outstanding high school graduate who has an affiliation with NASCAR and who exemplifies Alan's experience and commitment. The award is renewable annually up to four years for full-time students attending UNC Charlotte. The scholarship committee is composed of NASCAR and UNC Charlotte officials.
Eligibility:
To be considered for this scholarship, you must: (1) apply and be admissible to UNC Charlotte, (2) show evidence of NASCAR affiliation, and (3) show evidence of academic achievement and financial need. This scholarship is awarded to a mechanical engineering major with a concentration in motorsports and is renewable for up to four years pending a satisfactory GPA each year.
Application Procedure:
Go to our NinerScholars portal to complete an application.