Full Tuition Scholarship to Support Diverse Leaders of the Future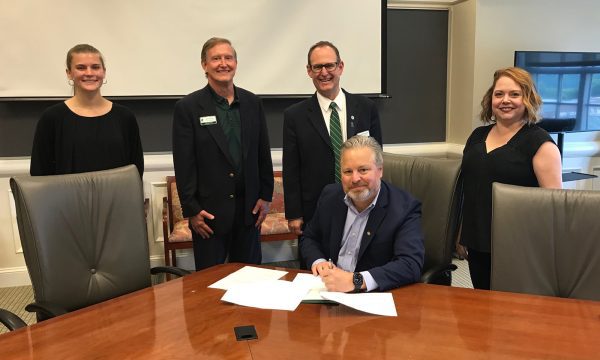 With extreme gratitude, Dean Robert Keynton of the William States Lee College of Engineering at UNC Charlotte is excited to announce the establishment of the Ametek Process & Analytical Instruments (Ametek P&AI) Academic Achievement Award.
Ametek P&AI is a division of Ametek, Inc. who is a leading global provider of industrial technology solutions serving a diverse set of attractive niche markets with annual sales over $6.0 billion. Ametek P&AI specifically manufactures products and provides services to the Oil and Gas, Automotive/Tire, Metals, Food and Beverage, and Power Industries. Above all else, it is their employees who dedicate their time, skills, and passions to Ametek P&AI that drive their success.

Due to the emphasis placed on talent retention, leadership development, and diversity and inclusion, Ametek, Inc. proudly presented the 2022 Helmut N. Friedlaender Leadership Award to the management team of the Ametek P&AI. It is this commitment that motivates Ametek P&AI to invest in the next generation of engineers at UNC Charlotte by establishing the award.
"We truly appreciate Ametek P&AI's generosity and vision in establishing this scholarship for aiding the college in developing strong, diverse leaders of the future" Keynton said. "Our partnership with Ametek P&AI and other industrial partners are a valuable asset to our students and what enables us to prepare graduates that are real-world ready."
The award will break down financial barriers that prevent underrepresented students from becoming engineers, and rewards leadership and the unique learning experiences that drive innovation. It will provide a full-tuition scholarship for one rising sophomore studying mechanical and/or electrical engineering for up to three years. Students will be eligible to apply for the full-tuition award during the 2023-2024 academic year.
"We are delighted to announce that, on behalf of AMETEK, Inc. and the AMETEK Foundation, Marcy Allen, Director of Talent Acquisition & DEI, and I had the honor of awarding the Helmut N. Friedlaender Leadership scholarship to a future engineering student at the University of North Carolina at Charlotte. This scholarship further strengthens our enduring partnership between UNC Charlotte and our AMETEK Pineville-based location, Controls Southeast, Inc. Throughout the years, we have joined hands on numerous ventures, and have cherish the value of this partnership. We eagerly anticipate forthcoming opportunities to extend our support to the remarkable students and graduates of UNC Charlotte."
The Friedlaender Award was established by the AMETEK Board of Directors to honor the late Helmut N. Friedlaender, who served on the Board of Directors for over 50 years. Mr. Friedlaender established a legacy of management excellence that strengthens AMETEK's Growth Model still today.
Photo above: Ametek's Dave Mollish signs agreement with William States Lee College of Engineering. Pictured (L to R): Engineering student Brynn Douglas; Jim Hartman, Director of Industrial Solutions Lab; Rob Keynton, Dean, W.S. Lee College of Engineering; David Mollish, Ametek P&AI Division Vice President, Human Resources; Marcy Allen, Ametek Director of Talent Acquisition, Diversity, Equity, & Inclusion