Inaugural Electric Vehicle Racing Safety Conference draws international attendees to Charlotte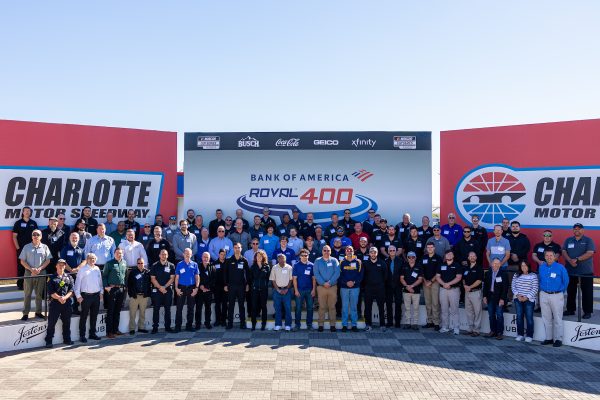 On October 18, electric vehicle leaders gathered at Charlotte Motor Speedway for the inaugural EVRSafe (Electric Vehicle Racing Safety) Conference. UNC Charlotte, along with the Stand 21 Safety Foundation and Charlotte Motor Speedway, took an industry-leading step to address EV racing safety concerns by bringing together experts who provided facts and dispelled the many myths about EVs. The attendees, who joined from a broad swath of racing-related roles from California to Canada, formed a new network of leaders who are now more engaged in the safety and technical issues of EV racing.
The speakers, from the front lines of EVs, included:
Jimmy Lyons, Principal Project Engineer – Motorsports, Williams Advanced Engineering
Robert Bosworth, High Voltage Safety Officer, International Motor Sports Association
Dr. Anthony Bombik, Assistant Professor of Mechanical Engineering, UNC Charlotte
Eric Huhn, Facility and Laboratory Safety Engineer, UNC Charlotte
The sold-out conference was designed to enhance the understanding of EV safety and how to work smarter in a variety of settings, from professional tracks to personal garages.
"Just like more EVs are appearing on our highways, many are headed to the race track as well," says Eric Huhn, safety engineer with Charlotte's William States Lee College of Engineering. "In addition to the professional track, enthusiasts are participating in 'track days' on road courses or 'test and tune' nights at the local drag strip. Many groups, from race track owners to emergency crews, are being faced with many unknowns and are wary of possible lithium-ion battery infernos, or collecting a heart-stopping zap while responding to an accident."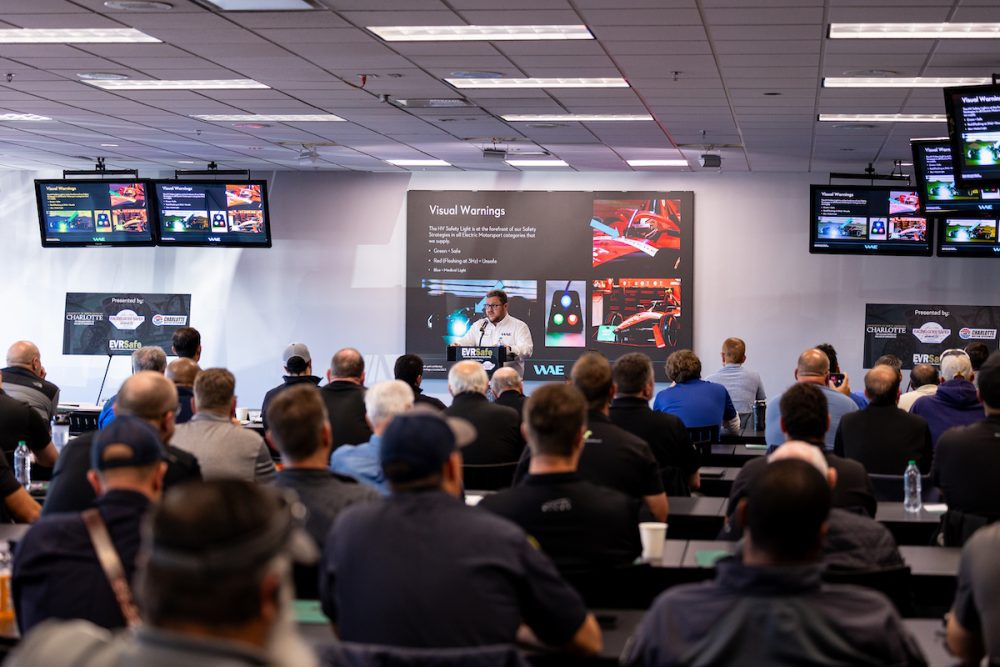 Being a trackside firefighter at Charlotte Motor Speedway, Huhn has seen this firsthand. "We are all aware of the possible hazards of the widely-publicized Lithium-Ion battery fires, or getting an electric shock if an accident occurs, so we need to better understand and learn how to mitigate the hazards."
The conference provided industry experts and EV battery researchers a forum to address and discuss these concerns with the race teams, first responders, and even students, putting them a step ahead of the concerns.
"By partnering on this conference, Eric and I were able to bring new information and insight to the track personnel and competitors across the racing sector," says Don Taylor, director of Stand 21 Racewear's non-profit educational foundation. "We dissected the issues, shared some lessons-learned, and discussed potential directions that will enhance safety practices for drivers, crewmen, and series officials."
With an increasing number of students designing and building electric vehicles, this forum also provided a higher level of appreciation for the hazards of EV racing to the future generations of race engineers.
Stand 21 Safety Foundation and UNC Charlotte presented the inaugural EVRSafe Conference with sponsorship by BATT CAVE and HMS Motorsport.
About Stand 21 Safety Foundation
The Stand 21 Safety Foundation, "Racing Goes Safer" is a non-profit organization with a primary purpose of promoting enhanced motor racing safety. It aims to achieve this goal in collaboration with medical and scientific bodies, as well as with major racing series' entities in order to bring awareness of safety issues, and offer solutions to the forefront of the motor racing world through seminars and educational videos. For more info, contact Foundation Director Don Taylor: dtaylor@racinggoessafer.org
About UNC Charlotte
As North Carolina's urban research university, UNC Charlotte leverages its location in the state's largest city to offer internationally competitive programs of academics, research and innovation, including BATT CAVE, the North Carolina Battery Complexity, Autonomous Vehicle and Electrification Research Center. BATT CAVE is addressing the increasing demand for talented engineering workforce and technology in a top emerging US industry, electric vehicle manufacturing.