Scholarship memorializing metrology legend, DMSC co-founder Bailey Squier, created for UNC Charlotte students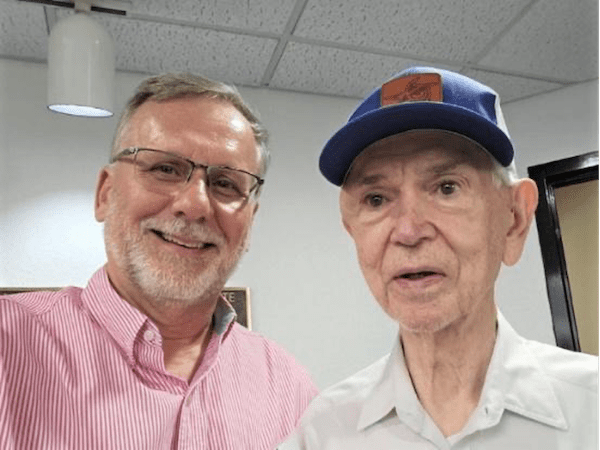 With the passing of Bailey Squier, co-founder of Digital Metrology Standards Consortium (DMSC), its Board of Directors contemplated ways to ensure his accomplishments and legacy are not forgotten. As a symbol of gratitude and admiration for the life and legacy of Mr. Squier, the DMSC Board established the Bailey H. Squier DMSC Metrology Memorial Scholarship.
Serving as the DMSC executive director from 2005 to 2019, Squier's leadership efforts helped make Quality Information Framework (QIF) into the leading digital metrology standard for Model-Based Enterprise. Prior to DMSC, Squire was well-known throughout the ANSI and ISO standards organizations, with substantial influence over Manufacturing and Quality standards during his 40-year career with the CAM-I organization. Additionally, Squire was the primary technology architect of the DMIS (Dimensional Measuring Interface Standard) metrology standard which enabled traceability of measurement processes and interoperability between coordinate measuring systems. Curtis Brown, active DMSC President, remembers; "… Bailey had a warm personality that one could never forget. He would draw people to him and leave them smiling when he left. He was just as comfortable discussing nuclear fission as he was talking about weather. We are honored to provide a lasting remembrance with this scholarship."
The scholarship, established in partnership with the University of North Carolina at Charlotte's William States Lee College of Engineering, will provide up to two awards annually to students studying Mechanical Engineering with a concentration in Precision Metrology.

Dr. Ed Morse, Director of UNC Charlotte's Center for Precision Metrology, is a long-standing contributor to the DMSC, in particular with QIF standardization activity. Dr. Morse stated, "In my early years, Bailey Squier was always there with gentle guidance regarding participation, and he was instrumental in arranging UNC Charlotte's membership in the DMSC beginning in 2014. I am thrilled that the DMSC has chosen to create a scholarship at our University to memorialize Bailey. This is a meaningful way for us to remember him and his contributions."
UNC Charlotte's Center for Precision Metrology has been producing master's and Ph.D. graduates for over 30 years, often receiving requests from companies for engineering talent trained in metrology. To meet this need, W.S. Lee College of Engineering has worked with the department of Mechanical Engineering and Engineering Science to develop an undergraduate concentration in precision engineering and metrology that launched Fall 2023. The concentration includes hands-on studies in a newly outfitted undergraduate metrology lab, four related, technical elective courses, and a two-semester senior design capstone course involving precision engineering. The new Bailey H. Squier DMSC Metrology Memorial Scholarship is designed specifically to support students in this concentration, offered only at UNC Charlotte.
The required high academic standards and attributes will ensure this scholarship reflects Squier's affinity for leadership, engineering and metrology. The inaugural award for this newly announced memorial scholarship will be for the Fall 2024 semester.