First phase of 'Engineering North Carolina's Future' faculty additions amplify Charlotte's groundbreaking research efforts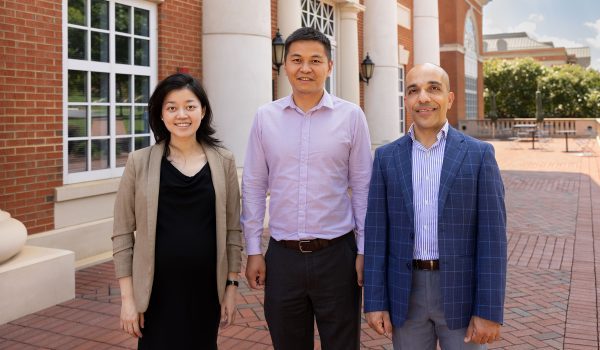 The "Engineering North Carolina's Future" initiative, backed by transformative investments by the N.C. General Assembly, has ignited a surge of teaching and research excellence at UNC Charlotte. As part of its plan to use this investment, the W.S. Lee College of Engineering has expanded its capabilities with an initial recruitment of three new faculty members.
Assistant Professor Shawn Chen's work sits at the intersection of mechanics and materials science. By researching and visualizing atom-level microstructures of materials, she seeks to predict and improve the way materials behave to create more reliable, higher quality products, such as stronger next-generation solid state batteries. Previously, Chen was a member of the faculty at Louisiana Tech University.
Assistant Professor Mahmoud Dinar conducts research around using different computational frameworks and AI to understand and aid engineering design and manufacturing. Supporting the development of "cyber manufacturing" as a service, some of his projects include capturing designers' spoken thoughts when solving problems to help discover creative strategies, and using machine learning to gain a deeper knowledge of manufacturing process capabilities. Dinar was most recently on the faculty of California State University, Sacramento.
Associate Professor Qiang Zhu's engineering research focuses on developing new computational methods and machine learning techniques to discover organic materials. These techniques can help determine how atoms are arranged in different organic materials with important implications for common materials, including ceramics which are used in clean energy generation. Zhu joins UNC Charlotte from the University of Nevada, Las Vegas.
"We are excited to welcome these new faculty to the University and know their work will be critically important to achieving the interdisciplinary goals of the Engineering North Carolina's Future initiative," said Jennifer Troyer, provost and vice chancellor for academic affairs.
See University article.