Biography of William States Lee III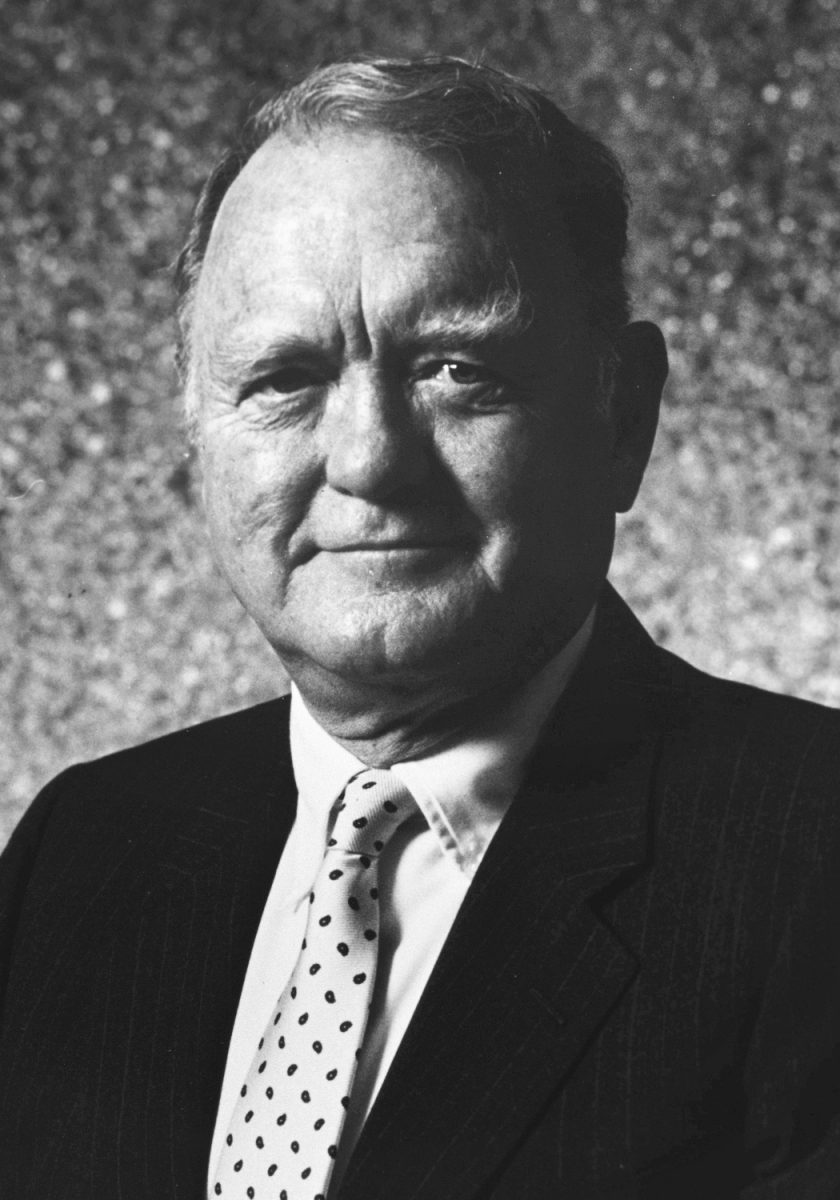 Born in Charlotte, North Carolina, in 1929, William States Lee III was the grandson of William States Lee Sr., who helped found Duke Power Company and was its first chief engineer. The younger Bill Lee followed in his grandfather's engineering footsteps. Bill Lee III attended Princeton University, where he studied civil engineering and competed as a member of the rowing team. He graduated from Princeton with Phi Beta Kappa and Magna Cum Laude honors.
After serving in the U.S. Navy Civil Engineering Corps, Lee married Janet Runerger of Bethlehem, Pennsylvania. The couple returned to Charlotte in 1955, where Lee joined Duke Power's engineering department as a junior designer.
An investor-owned electric power company, Duke Power was experiencing tremendous growth as it worked to keep pace with the fast-growing Carolinas. The company's policy was to design, engineer and construct its own hydro-electric and coal-fired power plants. Lee quickly established himself as a visionary engineer and natural leader. His work in the design of Marshall Steam Station was a key component in building a plant that consistently ranked as the most efficient plant in the country for more than 20 years.
In 1965, Lee became the vice president of engineering. In 1968, he was named to the Duke Power board of directors, and became the senior vice president of engineering and construction.
It was during the late 60s and early 70s that Lee helped lead Duke Power's design, engineering and construction of nuclear power plants. Duke was one of the first utilities in the nation to build base-load nuclear generating units. The construction costs of three nuclear units at Oconee Nuclear Station, two units at McGuire Nuclear Station and two units at Catawba Nuclear Station were some of the lowest in the world, while the efficiency of the units was some of the best.
In 1976, Lee became executive vice president of Duke Power. He was named president and chief operating officer in 1978, and chairman and chief executive officer in 1982. His position and title changed to chairman and president in 1989.
As the leader of Duke Power, Lee did not forget that the mission of the utility was to serve the best interests of the community. With seven nuclear units, Lee realized that the foremost consideration in this commitment was safety. Lee led a national movement to bring together all nuclear operators in a cooperative organization that would share best practices and establish worldwide safety standards. In 1979, the Institute of Nuclear Power Operations was formed and Lee served as its chairman from 1979 to 1982.
When the Three Mile Island Nuclear accident occurred in 1979, Lee led the recovery efforts, shutting down and stabilizing the reactor. He also worked long and hard to ease public concerns and make sure that a similar accident would not occur again.
Lee was the catalyst in expanding the new organization to a worldwide level. The World Association of Nuclear Operators was founded in 1989, and Lee served as its president until 1991.
In his community service, Lee went far beyond the issues directly impacted by Duke Power. He was the champion of numerous causes, including the Boy Scouts, performing arts and environmental stewardship. Perhaps his greatest commitment was to education, supporting everything from preschool programs for underprivileged children, to the building of top engineering programs at UNC Charlotte.
Lee established the Power in Education Program at Duke Power, which gave Duke employees paid time to volunteer in community schools. For his efforts, Lee was honored by U.S. presidents Ronald Reagan and George Bush.
Lee was committed to establishing and expanding excellence at UNC Charlotte's College of Engineering. He led efforts to develop strategic plans, create a vision and mission, and establish measures of success. His commitment led to the UNC Charlotte Board of Trustees naming of the College The William States Lee College of Engineering in 1994.
Lee retired from Duke Power in 1994. He continued, however, to work diligently for the people of the Carolinas. On the day before his death in 1996, Lee addressed the North Carolina State Legislature as the chairman of Gov. Hunt's N.C. Economic Development Committee. His parting words to the hall of legislators were that the most important thing they could do to further the economy of the state, was to support education. He called for a strong commitment to education on all levels, with particular emphasis on research and higher education.
Some of the many honors Bill Lee earned during his remarkable life included:
Election in 1972 as a Fellow in the American Society of Mechanical Engineers.
Election to the National Academy of Engineering in 1978.
Being named the Nation's Outstanding Engineer by the Society of Professional Engineers in 1980.
Being named the Utility CEO of the Year four times by Financial World.
Being named the Utility CEO of the decade by Financial World.
Serving on the boards of directors for J.P. Morgan & Co., Morgan Guaranty Trust Co., The Liberty Corporation, Texas Instruments, and Knight-Ridder Inc.
Serving as a member of the Business Council, and the Business Roundtable.
Winning the Charlotte World Affairs Council's World Citizen Award in 1991.
Being presented an honorary doctorate by UNC Charlotte in 1994.