College Named for Bill Lee in 1994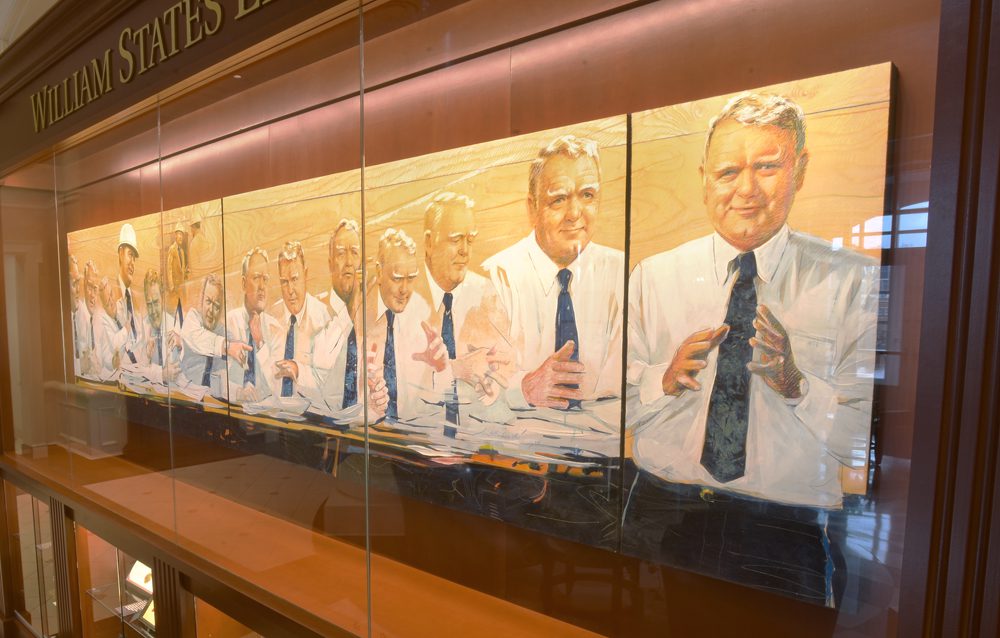 Russell M. Robinson II, chairman of the Board of Trustees stated in the announcement ceremony:
"A university has many ways to honor its alumni and supporters; honorary degrees, names on rooms, laboratories and buildings, names on scholarships and professorships. UNC Charlotte has already awarded Bill Lee an honorary doctorate. Today, we announce what I believe is the highest honor of all, the naming of The William States Lee College of Engineering of the University of North Carolina at Charlotte."
In his remarks at the announcement, Chancellor James H. Woodward said:
"In naming the college for Bill Lee, we have solidified a relationship between two institutions which has certainly served UNC Charlotte well, and I hope, has served Duke Power well."
Engineering Dean Robert D. Snyder, when called upon for remarks, addressed Bill Lee personally. He said:
"Bill my remarks will be directed to you and all the other people are welcome to listen. First, let me say that I do not believe you would want your name associated with any college of engineering whose primary commitment was not to quality undergraduate education. Our College has such a commitment! Although it may not be apparent to everyone, all of our College's recently highly publicized accomplishments in applied research, technology transfer, the implementation of our University's first Ph.D. programs, and even this building in which we are gathered today have been conceived and designed to enrich undergraduate education. With your name and influence, our commitment to that will be stronger than ever.
This event is a major milestone in the development of our College and could not have occurred at a more fortuitous time. We are in the midst of developing our College's blueprint for the future – process of continuous quality improvement in everything we do to meet the needs of all our customers. What better person to serve as a beacon to guide us in this effort than our new namesake, Bill Lee.
On behalf of the faculty and students of the College of Engineering, I want to express our great pleasure and honor with the naming of our school after you. Throughout your career, you have exhibited the attributes which we hope to instill in all our graduates: technical skills, management and business skills, interpersonal/people skills, a commitment to community, a global vision, and a commitment to quality.
We are excited not only about our school bearing your name but are even more excited about bearing the challenge of living up to your stature and reputation as a citizen of this community and as an internationally renowned, accomplished engineer.
Bill, we are honored to be your teammates in building a school worthy of your name."
March 31, 1994 – CC Cameron Applied Research Center – UNC Charlotte
---
Joni Pienkowskicommented at the unveiling – Tuesday, Nov. 22, 1994.
On the telephone to my mother in Wisconsin in our weekly call, I told her I was doing this great CEO, making a portrait 13 feet long and three feet high.
"Oh, dear," she said. "Is he prone?"
"No, no, Mama," I said. "I'm using lots of heads because his range of expression is glorious. I want people to feel they're having a conversation with him."
The more I studied his images, the more I realized I wanted to do a portrait that would not depend on one head. This man has too many wonderful expressions to nail it down to only one.
Expansive, expanding, a can-talk-to-anyone man. Many faceted. Cannot be pinned down to one expression, one mode, one pose. He is problem-solving, intense, inclusive, concerned, careful. Always capable of humor.
Direct, a blue-print man. A true-blue man (thus my choice of blue). To the point, yet willing to take productive tangents (thus my use of the caret, to indicate that he leaves the office, goes to the field, keeps tabs on processes. The caret is also an artistic device – to break the rhythm of the ties).
He seems an utter, ongoing man, because of his energy and influence – that spread the electric energy into many areas, imagined and unimagined. (Background lines, natural in the wood and imposed by me, suggest waves, lines, fields of energy, both electric and intellectual.)
I have very purposely maintained a sketch-approach to the subject because this is a fast-forward man, a lean-into-it problem-solver, who creates a momentum of ideas that lead to helpful solutions.
Only the last figure – that seems to leave the desk, rise, and hold forth solutions – represents a finished presentation. Yet one knows that Bill Lee will soon start solving another problem or begin another idea.
From the Campus News – Nov 29, 1994