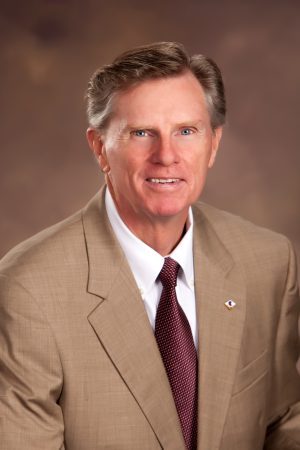 William Crowder
Director and Executive Vice President
W. T Crowder, Jr. (Bill) is a Charlotte native born in 1947. He graduated from Garinger High School in 1966 and Wingate Junior College in 1968, before attending North Carolina State University. He served in the United States Army from 1970 to 1973, then returned to earn a Bachelor's degree in Civil Engineering at UNC Charlotte in 1975. He married another Charlottean, Pamela McLaughlin, in 1970. They have two married sons and four grandchildren.
Crowder joined Crowder Construction Company upon graduation from college and worked in many capacities involved with field operations, safety, personnel development, and equipment management. He stepped down as Corporate Operations Officer in July of 2015, but remains involved in overall operations strategy and work acquisition, and as a Director, Executive VP and owner.
Crowder served in many capacities with the Carolinas Associated General Contractors as a Board Member and Committee Chair, and also served on several committees with the National Associated General Contractors. From 1990 to 1992 Crowder was a member of the Advisory Council for the Department of Construction Management at East Carolina University. He joined the initial Civil Engineering Advisory Council at UNC Charlotte in the 1990s, and continues to serve on board today. In the early 2000s Bill served on the Board of Visitors at Wingate University, and currently serves Wingate on the Board of Trustees and the Executive Committee of the Board. Crowder was inducted into the UNC Charlotte Alumni Hall of Fame in 2012.
Crowder has served many years as a volunteer and Board member with Alexander Youth Network and is currently Board Chair. He is an Elder at Philadelphia Presbyterian Church in Mint Hill, and has taught 4th/5th grade Sunday School there for many years. He has also led and organized local area construction contractors and volunteer response to many natural disasters. For this work he was recognized by President of the United States George H. W. Bush, received the Governor's Award for Volunteer Service, was awarded the State of North Carolina's Order of the Long Leaf Pine, and after hurricane Hugo in 1989, represented all of the volunteers as Grand Marshall at the Carolina Carousel Parade. In 1991 he received the Golden Hammer Award from the Charlotte Chapter of Professional Construction Estimators Association. Crowder served on the Board of the Charlotte Rescue Mission and played an integral role in the construction of the Dove's Nest women's facility in 2012.