Racing to Win: Sydney Prince Demonstrated Student-Designed Formula Car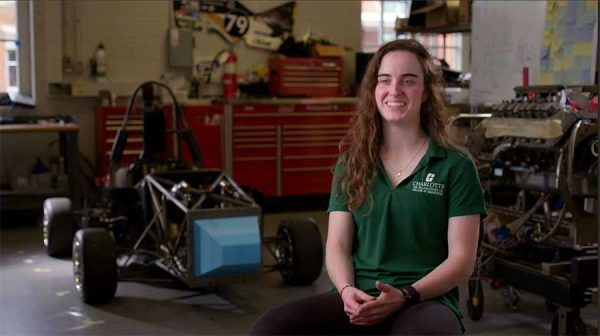 When Sydney Prince, a senior mechanical engineering major, climbed behind the wheel of UNC Charlotte's Formula-style race car in a recent competition, it was the ultimate driving exam.
Prince is a member of the Lee College of Engineering Formula SAE team that took its student-designed and built race car to Michigan International Speedway May 18-21 for a global contest. Charlotte vied against teams from universities from around the world. In 2019, the last in-person event pre-COVID, 120 teams competed.
"For me, racing is truly a team sport — it's about going fast, working on cars and having fun with family and friends," said Prince, who graduated May 13, just days before heading to Michigan. "Everything about racing is collaboration. Race engineers work with crew members and the driver on the car's setup for each track. The marketing staff helps secure sponsors and promotes the team. The goal is for the team to perform well and win."
Racing: the ultimate team sport
Formula SAE series competitions involve teams of university undergraduate and graduate students. The teams, representing colleges from around the globe, conceive, design, fabricate, develop and compete with small, formula-style vehicles. The contest provides teams the chance to demonstrate their creativity and engineering skills in comparison to other universities.
Prince, who was involved in the car's design and manufacture, was tapped for the on-track phase of the competition; she drove the car in a number of endurance events where judges evaluated its performance, design and mechanical durability. While she shared the track with other drivers, the race focused on how well she and her teammates designed and built their car.
A native of Killingworth, Connecticut, Prince has been involved in racing since age 5. Her father, David, presented her with a list of hobbies, and racing piqued her interest. Starting with quarter-midget cars, Prince eventually moved to Sprint cars, winning numerous races and championships along the way.
A reputation for motorsports excellence
Her high school advisor suggested UNC Charlotte as a match for her interest in motorsports engineering. Charlotte's reputation as a leader in mechanical engineering education has Prince well-prepared to succeed. A number of Lee College faculty members have strong relationships with many of the NASCAR teams in the Charlotte region, a plus for graduates who are exploring a career in the motorsports industry.
"Working in the Alan Kulwicki Motorsports Lab has provided me with advanced automotive manufacturing knowledge that I probably wouldn't have obtained through other programs. You have to be able to design to manufacture. Having the chance to design and build a race car really has boosted my confidence in my capabilities," said Prince, who strengthened her skills with real-world experience as an intern with Spire Motorsports.
Original article by Phillip Brown on Inside UNC Charlotte
The William States Lee College of Engineering is Forging the Future
Established in 1965, the UNC Charlotte William States Lee College of Engineering, named for energy industry icon Bill Lee, offers engineering education programs at the undergraduate, master's, and doctoral levels. The College of Engineering is one of the Carolinas' largest engineering schools, with more than 3,000 students and over 16,000 alumni, more than half of whom live and work in the Charlotte region. The college is committed to building strong partnerships with industry in Charlotte and across the nation through both academic, research and innovation programs. Learn more about how the College is forging the future at engr.charlotte.edu and on Facebook, LinkedIn and Instagram.