The Harmonic Confluence of 3-D Printing, Additive Manufacturing And Helping Others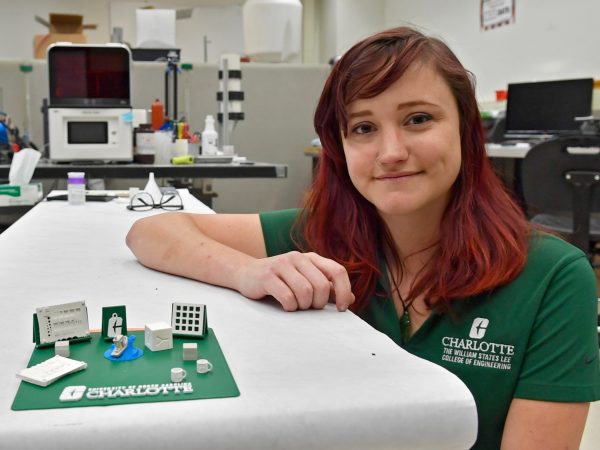 Mechanical engineering doctoral student Taylor Barrett-Crvich – a blues/rock performer who plays guitar, ukulele, mandolin and piano – understands the unique melding of mathematics, music and engineering. As an undergraduate at UNC Asheville, she wrote "Mathematics and Music," a paper devoted to fractals, a mathematical concept found in nature and ratios, and how they create music. She also developed a computer program to manipulate chord progressions assigned by numbers in fractal patterns to compose music.
Now a second-year doctoral student concentrating on materials science in the William States Lee College of Engineering at UNC Charlotte, Barrett-Crvich notes the mathematical synchronicity of 3-D printing, a process that relies upon building an object layer by layer, eventually revealing the finished product. It is not dissimilar from musical orchestration when a composer overlays melodies and harmonies to create sounds that please the ear.
Driving Innovation
Alongside a passion for 3-D printing has emerged an interest in additive manufacturing, a field with implications for industries from health care to aerospace to automotive. Barrett-Crvich is exploring all it has to offer through the Center for Additive Manufacturing of Advanced Ceramics, established at UNC Charlotte in 2021 with a $1.25 million grant from the UNC System Research Opportunities Initiative program. CAMAC brings together System researchers and industry and government laboratories to drive innovation within the ceramics additive manufacturing process chain.
"Additive manufacturing is the future of helping people, being able to create small-batch, customized parts, whether it be machine part prototypes for fledgling inventors or tailored prosthetics for patients," she said.
Barrett-Crvich conducts her ceramics research under the supervision of Brigid Mullany, professor of mechanical engineering and engineering science and one of the CAMAC leads. She is particularly interested in prosthetics and 3-D bioprinting, using ceramic polymers to create porous structures for medical use. This technique, called scaffolding, can be used to regenerate joints and ligaments, something to which Barrett-Crvich can relate.
Within her left ear, she has three plastic bones that replaced her anvil, stirrup and hammer. At 13, she visited a water park but left in excruciating pain. Doctors discovered and removed a benign tumor behind her left ear.
"I'm free and clear now after a second tumor removal, but I have only 10 percent hearing in my left ear. The loss is similar to that of people as they age. Sometimes, I use a hearing aid or read lips, which means I have to ask my fellow students to repeat themselves," Barrett-Crvich said.
LEARNING FROM ONE ANOTHER
After completing a bachelor's degree in pure mathematics with a concentration in chaos theory and modeling in 2018, Barrett-Crvich worked in Asheville for two years. A self-described childhood tinkerer, she enrolled at UNC Charlotte and started taking junior- and senior-level engineering classes remotely.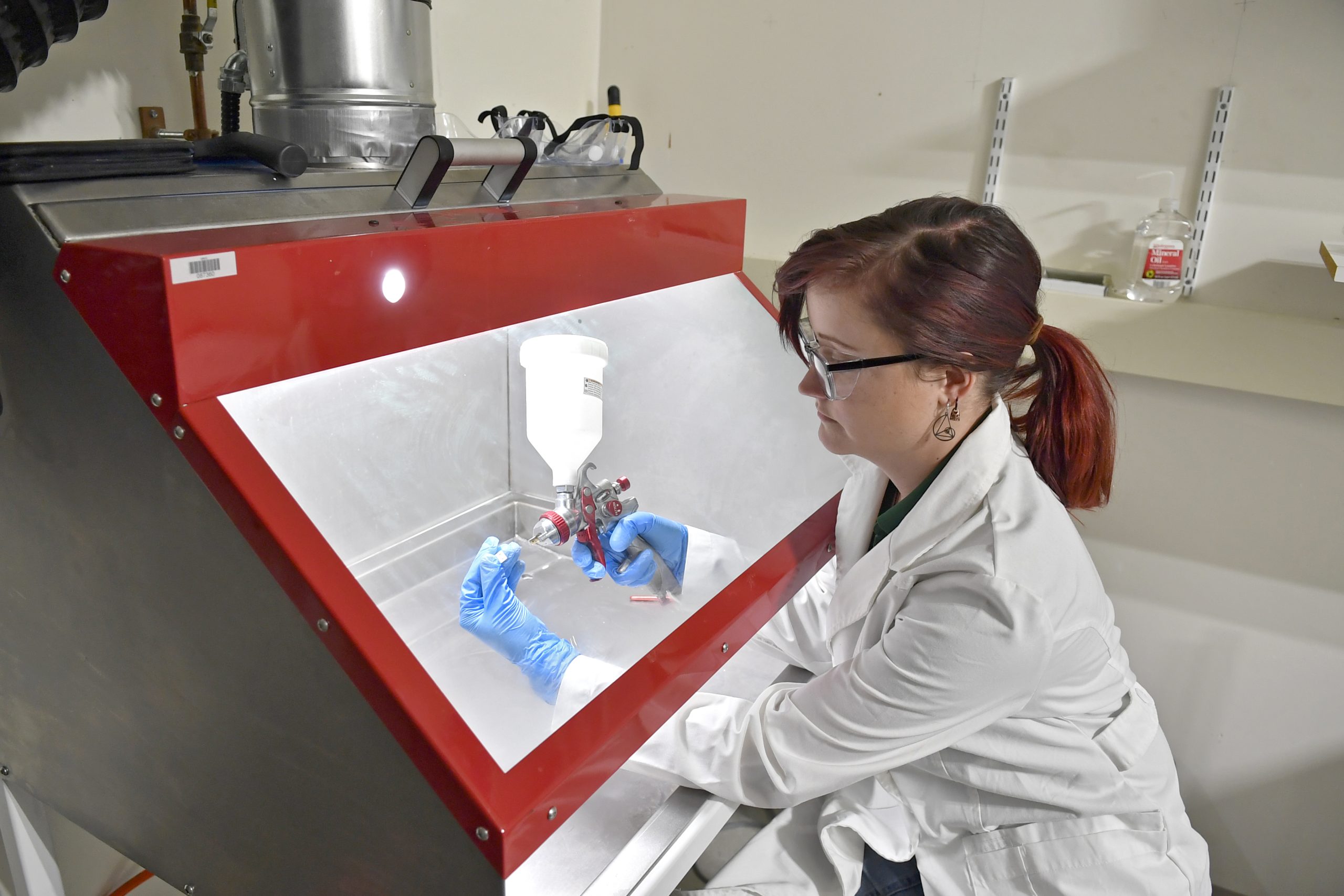 "Growing up, I had a natural curiosity to learn how mechanical devices worked," said Barrett-Crvich, a Wilmington native. "I had a huge Lego collection, and eventually, my mom would give me toasters and computers to take apart and put back together."
SOLVING REAL PROBLEMS WITH 3-D PRINTING
Charlotte engineering professor Steven Schmid advised Barrett-Crvich to enroll in the mechanical engineering Ph.D. program rather than complete a second undergraduate degree. After taking a 3-D printing class, she was hooked and purchased her own machine, which she uses almost daily. Printers come in a range of sizes and costs, from models for entry-level users to complex versions used in the materials science labs in the Lee College of Engineering.
At her work station, she points to item after item she printed to solve a problem: devices to hold tools and goggles and interconnected components for a filtering system to aid in ceramic printing. Most of these items were printed using colored plastic filament, which is one type of 3-D printing.
"Engineering is about problem solving and troubleshooting — all in an effort to explore solutions to improve our lives," said Barrett-Crvich.
This past summer, she interned at Oak Ridge Laboratory in Tennessee where she experimented with various types of ceramic slurries, a type of chemical solution used in additive manufacturing. The chemical composition of the slurry will determine the final ceramic product's properties, such as its tensile strength, conductivity and performance under extreme temperature and pressure.
INSPIRING FUTURE WOMEN ENGINEERS
Barrett-Crvich can name the pop culture role models of her youth: Carl Sagan, Bill Nye and Jamie Hyneman and Adam Savage of "MythBusters" fame, all men.
"Fortunately, I had a wonderful science teacher, Stephanie Daves McKenzie, who also worked at the children's museum," she said. "She definitely encouraged me to learn, question, build and explore. Having that support at a critical age was key to my desire to pursue math and science."
Now, Barrett-Crvich is taking an active role in fostering interest among the next generation of women engineers. She is working with a local elementary school, giving STEM-related presentations for its afterschool Girls Excelling in Math and Science Club. She also is making plans to participate with a youth development, mentorship and leadership organization in St. Thomas, Virgin Islands, where her mother lived for several years. Prior to Asheville, Barret-Crvich spent time in the Virgin Islands refurbishing her sailboat, which was destroyed in 2017 following hurricanes Irma and Maria. As an undergraduate, she took time away from school to volunteer with relief efforts in St. Thomas.
"Involving underrepresented groups, including women in STEM fields leads to greater diversity in thinking, ideas and perspectives," said Barrett-Crvich. "It also offers the added benefit of decreasing the pay gap between men and women."
Original article by University Communications